This couples game reveals who knows their spouse best!
How well do you know your spouse?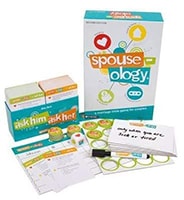 We've all met those couples that just seem to get each other. They know what their partner is thinking before it is even spoken.
Experts say that understanding each other's desires, needs, dreams, and frustrations is key to building a lasting relationship.
That's why we want you to have "Spouse-ology," the hilarious game that enables couples to grow deeper in their relationship while laughing together. It includes 1,000 questions in 4 categories (Romance, House & Home, Finances, and Past,Present & Future).
With more than 930 reviews and 4.5 stars, this game is sure to become a feature of your next date night or evening with friends. As Raquel, a verified purchaser said, "We love this game! We have played it many times with different couple friends and always end up rolling on the ground with laughter. You think you know your spouse but maybe not as good as you thought. It is great to learn about your friends deeper too. Lots of good stories shared."
At FamilyLife, we've helped thousands of couples like yours better understand one another so they can strengthen the relationships that matter most.
When you make a gift today, not only will you receive "Spouse-ology," but your gift will be used to reach people in need of God's transforming grace in their homes, helping strengthen their marriages.
You don't need to wait any longer to grow closer as a couple. Use the secure form below to make your gift and get your own copy of "Spouse-ology."