Get your copy of Seeing Beautiful Again and rediscover the beauty of your life.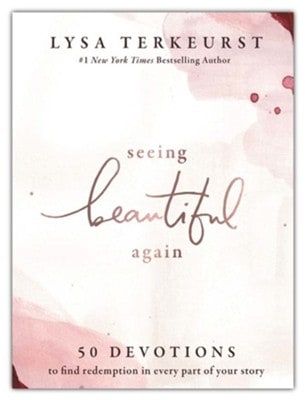 Life can often be a storm of struggles, challenges, and disappointments. It's easy to lose sight of the beauty that lies within us and around us. But what if you could navigate through these storms, finding hope and healing, while also making an impact on the lives of others?
In Seeing Beautiful Again, New York Times bestselling author Lysa TerKeurst invites and encourages you to hope again through powerful devotions, prayers, and anecdotes to help you rediscover redemption and beauty in your life.
This devotional is not just a book; it's a journey towards healing, offering you a chance to:
Gain healthier ways to process your pain and learn to see your situations through truth-based perspectives.
Disempower the lie that how you feel about your life is the full story by remembering that, with God, there's always something more true, lovely and good right now.
Stop feeling alone in your struggles and spend guided time with God each day
One reader, Sonja, shared her experience with this book: "This book is so tender as it takes you on a prayer journey of reflection and forward perspective. For those who have struggled with a setback of heartbreak and are journeying towards healing it is like the breath of God and the counsel of an intimate friend wrapping around your fragile heart. One of my favorite devotionals I've read!"
When you make a gift today, you will receive a copy of Seeing Beautiful Again to help you begin your journey of healing. Your gift will also be used to reach other families in critical need, drawing more people into a growing relationship with Jesus Christ through increased evangelism and discipleship in local communities.

Your life is filled with unforgettable beauty, and this powerful book will equip you to see it once again. Use the secure form below to make your gift and receive your copy of Seeing Beautiful Again.