Families Need Biblical Guidance and
Practical Help More Than Ever
The grass withers, the flower fades, but the word of our God will stand forever.
Isaiah 40:8
While uncertainty about the future remains a prevailing theme in our world… stress, fear, and exhaustion exist in the lives of families everywhere. But we know God is unchanging.
FamilyLife is committed to offering His biblical guidance and practical resources to empower families with the help and hope they need now, more than ever.
But we can't do this alone. You could provide the help needed to save a marriage and strengthen a family.
We need followers of Christ to step forward and equip marriages and families with the unchanging truths of God's Word.
When you make a gift today, it will be used to reach families with biblical truth. Your generous gift will go directly towards helping to launch these new outreaches to meet people right where they are…
Launching an Updated FamilyLife App — Enabling "shareable" audio and video content. Imagine the increased impact when powerful content can be shared with a "click"!
Self Guided Couples Experiences — With limits on capacity for live events, we're developing virtual couples experiences to help couples move from isolation to oneness in their marriage and share what they are learning with others. These life changing, transformational experiences will focus on God's design for marriage, healthy communication and conflict, and intimacy.
Content for Digital Small Groups — Unique resources are being created in a special format to encourage digital small groups and provide married couples with 24/7 access to biblical help and hope.
And ultimately, bringing more people into a growing relationship with Jesus Christ through increased evangelism and discipleship in local communities. We know that this decision of faith is foundational to any marriage or family issue and has changed the lives of more than 100,000 people already who have accepted Christ as their Savior since this ministry was founded.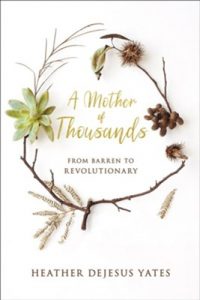 With your gift today, you can receive a free copy of A Mother of Thousands by Heather DeJesus Yates. In this book, Heather shares her personal journey with infertility grief, even giving her husband control of some of the pages – and introduces you to a barren plant that changed everything. Offering hope within a community of real womens' stories with infertility, this book is the empathetic friend you want and the hopeful path out of broken dreams you need.
Will you make a difference for families seeking God's unchanging truths by making a generous gift today?
Use the secure form below to get started.