Receive
In society, men often feel the pressure to prove their manhood through various forms, such as financial success, physical appearance, or spiritual performance. These misguided notions lead men to seek approval from others, including peers, wives, and even God Himself. However, these efforts to earn approval ultimately leave men feeling isolated and exhausted.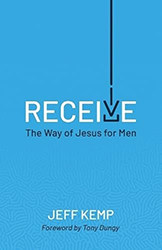 In Receive, Jeff Kemp offers an alternative perspective for men seeking security and authenticity. By embracing the concept of being God's son and learning from Jesus' example, men can discover their true identity. Kemp, drawing from his personal experiences as an NFL quarterback, husband, son, and father, provides practical guidance and transparent insights. He emphasizes the transformative power of receiving one's identity and highlighting how it reshapes every aspect of life, from finding purpose to cultivating meaningful friendships. Through this approach, men can redefine what it means to be a genuine and virtuous man, following the path laid out by Jesus.
FamilyLife's goal is to provide encouraging biblical content to marriages and families in need. Your generosity could help provide resources to restore a broken marriage or strengthen a family.
When you make a gift today, not only will you receive a copy of Receive, but your gift will be used to bring solid biblical teaching to families. Your generous gift will go directly toward helping to launch these new outreaches:
Translating the all-new Art of Marriage™️ video series into key languages to reach more couples.
Bringing FamilyLife's powerful, daily radio and podcast content to digital audiences through YouTube and other emerging platforms—where people are increasingly searching for help with life's relationship questions.
Launching FamilyLife Equip, an entire website full of practical, easy-to-use resources to train and equip like-minded families on mission to transform their neighborhoods and communities.
Will you join us in making a difference for families seeking God's unchanging truths by making a generous gift today?
Use the secure form below to get started.