The Twelves Names of Christmas™
Make learning about Jesus easy and fun this holiday season with The Twelve Names of Christmas™. The names of Jesus reveal the many facets of who He is, and knowing these names will lead us to know and adore Him.
Each read-aloud story sets up practical yet meaningful family time to explore Jesus through 12 brightly-colored ornaments. Hang all 12 at once at a tree-trimming party, or spread the decorating over 12 days leading up to Christmas morning.
We hope this ornament set will invite hands-on Christmas fun for your whole family.
At FamilyLife, we are committed to sharing biblical help and hope like this to families all over the world. We know that so many marriages and families are on the verge of collapse and are in need of practical resources, rooted in biblical truth.
If you make a donation today, your gift will provide transformational help in life's most important relationships: God, spouse, and kids.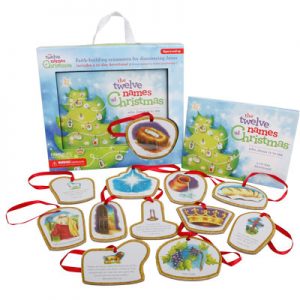 We do this through our Weekend to Remember® marriage getaways, the FamilyLife Today® radio broadcast, and our website packed with online courses, articles, books, and more.
Will you make a difference for families seeking God's unchanging truths by making a generous gift today?
Use the secure form below to get The Twelve Names of Christmas® ornament set and provide help and hope to families in need.