Promises of God Calendar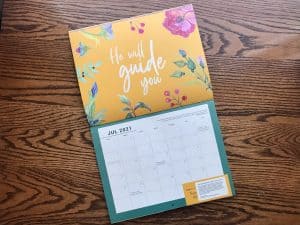 The beautifully designed "Promises of God" wall calendar highlights a biblical promise each month of the year. Easily keep track of your schedule and enjoy time with God through specific prayers referenced throughout the months.
You can also dive deeper with a featured Resource of the Month to strengthen your marriage or home. Our heart and hope is that this calendar will keep God's promises top of mind as you go throughout your day.
At FamilyLife, we are committed to sharing biblical help and hope like this to families all over the world. We know that so many marriages and families are on the verge of collapse and are in need of practical resources, rooted in biblical truth.
If you make a donation today, your gift will provide transformational help in life's most important relationships: God, spouse, and kids.
We do this through our Weekend to Remember® marriage getaways, the FamilyLife Today® radio broadcast, and our website packed with online courses, articles, books, and more.
Will you make a difference for families seeking God's unchanging truths by making a generous gift today?
Use the secure form below to get the Promises of God wall calendar and provide help and hope to families in need.