You Can Reach Families with Hope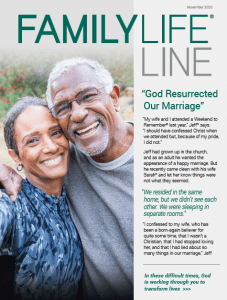 While uncertainty about the future remains a prevailing theme in our world… stress, fear, and exhaustion exist in the lives of families everywhere. But we know God is unchanging.
FamilyLife is committed to offering His biblical guidance and practical resources to empower families with the help and hope they need now, more than ever.
But we can't do this alone. You could provide the help needed to save a marriage and strengthen a family.
We need followers of Christ to step forward and equip marriages and families with the unchanging truths of God's Word. This month, thanks to a group of generous longtime FamilyLife partners, your gift will be matched up to $2 million until December 31st!
When you make a gift today, it will be used to reach families with biblical truth. Your generous gift will go directly towards helping to launch these new outreaches to meet people right where they are…
New Marriage Resources—New online courses like the Love Like You Mean It small group series are helping couples create lasting change in their marriage.
Community Outreach—Your support helps develop local spiritual movements in homes, churches, and communities across America.
Radio Ministry & Beyond—From the radio airwaves to the Internet, your support helps ensure families across the world can access biblical truths through podcasts and our growing library of web-based content.
FamilyLife App—The new FamilyLife app is putting biblical help and hope at the fingertips of families everywhere.
Will you make a difference for families seeking God's unchanging truths by making a generous gift today? Don't forget, your gift will be matched – dollar for dollar – up to $2 million until midnight of December 31st!
Use the secure form below to get started.