Unshaken is on its way to your inbox.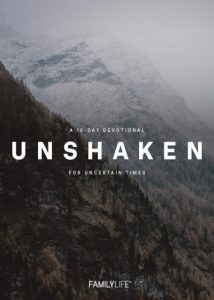 We hope this 10-day devotional will be rest for your weary soul in this time. No matter what is happening around you or how unsteady the world feels, God is our sure and stable foundation.
Many families around the globe right now are wrestling with significant panic. Maybe you're there yourself. Amidst being home bound, some are feeling more desperate than ever.
FamilyLife wants them to know about the Healer for far more than a pandemic.
Thousands are searching for hope, even today. FamilyLife is committed to providing resources with biblically-sound, trustworthy advice.
But we can't get hope to those thousands without you. We need people like you to step forward and prayerfully and financially support the efforts of bringing help to families so they can find the hope of Christ.
Your $50 gift directly benefits 35 more families–bringing more wholeness, and the answers they need most.
Will you help us reach more people with a gift today to FamilyLife?