Families Need Biblical Guidance and
Practical Help More Than Ever
Your gift today can provide this and go twice as far through a special $345,000 MATCHING GIFT
The grass withers, the flower fades, but the word of our God will stand forever.
Isaiah 40:8
While uncertainty about the future remains a prevailing theme in our world… stress, fear, and exhaustion exist in the lives of families everywhere. But we know God is unchanging.
FamilyLife is committed to offering His biblical guidance and practical resources to empower families with the help and hope they need now, more than ever.
But we can't do this alone.
We need followers of Christ to step forward and equip marriages and families with the unchanging truths of God's Word.
To help with this, FamilyLife has received an amazing matching gift that will help reach twice as many families. But this limited-time opportunity ends May 31.
When you make a gift today, it will be matched dollar for dollar—up to $345,000—to reach families with biblical truth. Your generous gift will go directly towards…
Providing biblical wisdom to millions of couples and families every week through our radio broadcasts that help to encourage and challenge new and old believers in their walk with Christ.
Strengthening marriages and families through the countless articles, books, online courses, podcasts and other practical and biblical resources to the more than 18,000 people who visit our website every day.
Bringing more people into a growing relationship with Jesus Christ through increased evangelism and discipleship in local communities. We know that this decision of faith is foundational to any marriage or family issue and has changed the lives of more than 100,000 people already who have accepted Christ as their Savior since this ministry was founded.
Is this something you would consider investing in on an ongoing basis?
When you do, you become a Legacy Partner. And not only are you ensuring that marriages and families are supported through biblical resources and practical help every single day, but your ongoing, monthly gift will be doubled through the special matching gift for the next 12 months!
As our way of thanking you for becoming a Legacy Partner today, you'll receive a free Weekend to Remember registration to the location of your choice!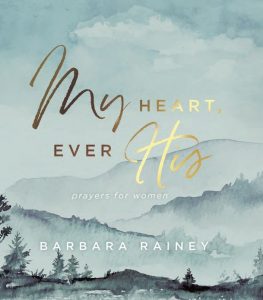 However you choose to give – whether that's a one-time gift, or ensuring families have biblical support every single day through an ongoing gift, you can receive a free copy of Barbara Rainey's newest book, My Heart, Ever His.. Through this book, you will see God as he is, and not as we assume him to be as Barbara shares 40 honest and raw prayers for women that can be used as a way to express the longing of our hearts to our Father who loves us – even as he sees who we truly are.
Will you have twice the impact for families seeking God's unchanging truths by making a generous gift today through the matching gift?
Use the secure form below to get started.