You Can Give Hope!
But they who wait for the Lord shall renew their strength; they shall mount up with wings like eagles; they shall run and not be weary; they shall walk and not faint.
Isaiah 40:31
As we pass the one year anniversary of COVID – 19, hope is still desperately needed among millions of people. We believe you reached this page for a reason and can be that source of hope.
It is our heart and mission to meet families in their deep need with biblically based resources and experiences. We are aggressively expanding our digital outreach so we can point those searching for answers to the unwavering love, mercy, and grace of Jesus.
But we can't do this alone. You could provide the help needed to restore a broken marriage or strengthen a family.
We need followers of Christ to step forward and equip marriages and families with the unchanging truths of God's Word.
When you make a gift today, it will be used to reach families in critical need. Your generous gift will go directly towards helping to launch these new outreaches to meet people right where they are…
Launching an Updated FamilyLife App — Enabling "shareable" audio and video content. Imagine the increased impact when powerful content can be shared with a "click"!
Self Guided Couples Experiences — With limits on capacity for live events, we're developing virtual couples experiences to help couples move from isolation to oneness in their marriage and share what they are learning with others. These life changing, transformational experiences will focus on God's design for marriage, healthy communication and conflict, and intimacy.
Content for Digital Small Groups — Unique resources are being created in a special format to encourage digital small groups and provide married couples with 24/7 access to biblical help and hope.
And ultimately, bringing more people into a growing relationship with Jesus Christ through increased evangelism and discipleship in local communities. We know that this decision of faith is foundational to any marriage or family issue and has changed the lives of more than 100,000 people already who have accepted Christ as their Savior since this ministry was founded.
Will you make a difference for families seeking God's unchanging truths by making a generous gift today?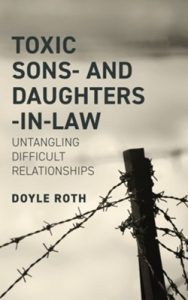 With your gift of any amount this month, we would love to send you a copy of Toxic Sons and Daughters in Law by Doyle Roth. In this book, Roth helps expose the harmful attitudes and actions of a difficult son- or daughter-in-law and calls for biblical repentance and change. Untangling the destructive and dysfunctional nature of their abusive behavior will help parents manage the painful process of rejection, manipulation and anger. The practical counsel throughout the book will guide parents through the minefield of emotions to a God-glorifying conclusion and a lifestyle marked by application of biblical principles.
Use the secure form below to get started.