Reach Families Everywhere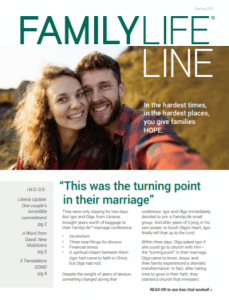 In these challenging days, you know the hope that still eludes millions of families. Will you share it?
FamilyLife is active in 103 nations around the world. Many of them are places where spiritual interest is skyrocketing right now.
By God's grace and because people like you helped, we just finished new translations of major materials into Spanish, Arabic, and Chinese—and we have field requests for several more.
At this time of increased spiritual interest, will you help roll out these and more tools to reach households worldwide with God's blueprint for families?
Your gift today of $25, $50, $100 or even more will help reach into homes around the world—helping uniquely open families know God's plan for them.
Please give today to heal marriages and build multipliers who will share God's plan for families to the ends of the earth! Thank you so much for your faithfulness!