Strengthen marriages in every corner
of the earth!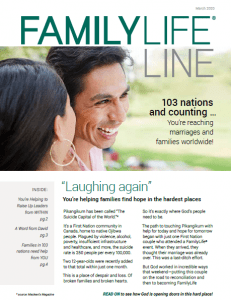 In some of the most challenging mission fields on earth, God is using family to open doors that are usually shut tight—because every couple in every culture understands the hurt of broken families … every household is eager for help and hope. They are willing to let Christians in to deliver it!
Today, will you help reach millions with God's plans for them?
Your gift today will help seize timely opportunities, including:
Expanding The Art of Parenting™ outreach, in Arabic, in three very closed nations in North Africa and the Middle East.
Reaching every branch of one country's armed forces, at the request of high-ranking military officials.
Translating Like Arrows and The Art of Parenting™ into Portuguese.
Continuing vigorous, family-transforming outreach in India (only 2.3% Christian), China (only 5 % Christian), and many more challenging nations!
Your gift of $25, $50, $100 or even more today will reach hurting families all over the world with God's plans for them.
With growing persecution in China, the Middle East and more, we simply do not know how long these emerging opportunities will last. Please give your most generous gift today.
Thank you for your help to reach families in hard places—families who may otherwise never hear!