You can help build godly marriages
and families!
Therefore, if anyone is in Christ, the new creation has come: The old has gone, the new is here!
2 Corinthians 5:17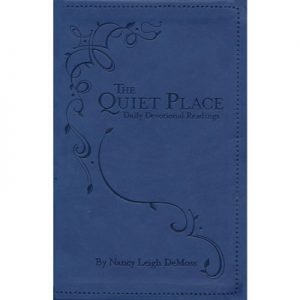 You want to spend time with God each day—and you'd love to find great joy in doing so—but it's not easy! Encouraging you to try again, Nancy DeMoss Wolgemuth offers fresh and relevant reflections on the attributes, purpose, and character of God in this year's worth of 365 readings selected from her best-selling books all in one spot! The Quiet Place daily devotional is a great tool to dig into God's Word and help you fulfill that New Year's resolution to spend more time with Him!
At FamilyLife, we are committed to providing the resources needed to build healthy homes and marriages, for all seasons of life.
But we can't do this alone. You could provide the help needed to save a marriage and strengthen a family. We need followers of Christ to step forward and equip marriages and families with the unchanging truths of God's Word.
When you make a gift today, it will be used to reach families with biblical truth. Your generous gift will go directly towards helping to launch these new outreaches to meet people right where they are…
Launching an Updated FamilyLife App — Enabling "shareable" audio and video content. Imagine the increased impact when powerful content can be shared with a "click"!
Self Guided Couples Experiences — With limits on capacity for live events, we're developing virtual couples experiences to help couples move from isolation to oneness in their marriage and share what they are learning with others.
Content for Digital Small Groups — Unique resources are being created in a special format to encourage digital small groups and provide married couples with 24/7 access to biblical help and hope.
And ultimately, bringing more people into a growing relationship with Jesus Christ through increased evangelism and discipleship in local communities.
With your gift today, we would love to send you The Quiet Place by Nancy Demoss Wolgemuth. Will you make a difference for families seeking God's unchanging truths by making a generous gift today?
Use the secure form below to get started.