Twenty-six years ago, FamilyLife Today® launched with Dennis Rainey to be a measured voice on behalf of biblical marriage because family remains the most powerful institution on the planet. Now as Dennis is transitioning away from his role as host of the program, Dave and Ann Wilson will be stepping into the host role with co-host Bob Lepine. It's an amazing time to be a part of the FamilyLife Today family!  
For more than four decades, FamilyLife has provided people with biblically-based, practical help to strengthen their marriage and family…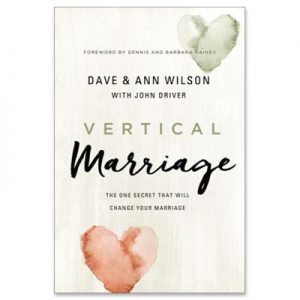 But we know that there are more families that need help. And we know Christ offers the help they need.
Your gift to FamilyLife empowers a movement of ministry to help families in life's most important relationships: God, spouse, and kids.
When you make a financial gift today, we'll send you a copy of "Vertical Marriage," the new book from Dave and Ann Wilson, the new hosts of FamilyLife Today®.  It's a powerful book that will help you get to know the Wilsons in a deep way.  We appreciate your partnership with FamilyLife!
Please make your gift using the secure form below.