The 4 Habits of Raising Joy-Filled Kids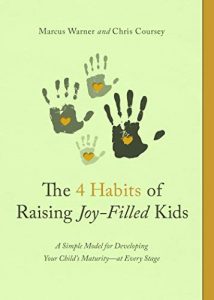 Parents want their kids to be happy, but are they also filled with joy? The 4 Habits of Raising Joy-Filled Kids is aimed at helping parents raise children who work toward what is truly satisfying in their lives. Marcus Warner and Chris Coursey lay out tools to guide kids of all ages to build important life skills that encourage them to grow in maturity and live with greater joy. The skills you'll learn in The 4 Habits of Raising Joy-Filled Kids can not only help you parent your children well, but also help joy flourish in your family.
At FamilyLife, we strive to provide marriages and families practical resources that are rooted in the Bible to help them navigate the challenges of life. Would you join us in this mission?
Your generosity could help provide resources to restore a broken marriage or strengthen a family.
When you make a gift today, not only will you receive a copy of The 4 Habits of Raising Joy-Filled Kids, but your gift will be used to reach families in critical need. Your generous gift will go directly toward helping to launch these new outreaches:
An updated FamilyLife App — Enabling shareable audio and video content. Imagine the increased impact when powerful content can be shared with a click!
Self-guided couples experiences — With limits on capacity for live events, we're developing virtual couples experiences to help couples move from isolation to oneness.
Content for digital small groups — Unique resources are being created in a special format to encourage digital small groups and provide married couples with 24/7 access to biblical help and hope.
And ultimately, bringing more people into a growing relationship with Jesus Christ through increased evangelism and discipleship in local communities.
Will you join us in making a difference for families seeking God's unchanging truths by making a generous gift today?
Use the secure form below to get started.