You Can Share the Love of Christ!
And now these three remain: faith, hope and love. But the greatest of these is love.
1 Corinthians 13:13
As the year 2021 has already shown us, displaying Christ's love to all is one of the most effective ways for the Church to spread the gospel.
It is our heart and mission to meet families in their deep need with biblically based resources and experiences. We are aggressively expanding our digital outreach so we can point those searching for answers to the unwavering love, mercy, and grace of Jesus.
But we can't do this alone. You could provide the help needed to restore a broken marriage or strengthen a family.
We need followers of Christ to step forward and equip marriages and families with the unchanging truths of God's Word.
When you make a gift today, it will be used to reach families in critical need. Your generous gift will go directly towards helping to launch these new outreaches to meet people right where they are…
Launching an Updated FamilyLife App — Enabling "shareable" audio and video content. Imagine the increased impact when powerful content can be shared with a "click"!
Self Guided Couples Experiences — With limits on capacity for live events, we're developing virtual couples experiences to help couples move from isolation to oneness in their marriage and share what they are learning with others. These life changing, transformational experiences will focus on God's design for marriage, healthy communication and conflict, and intimacy.
Content for Digital Small Groups — Unique resources are being created in a special format to encourage digital small groups and provide married couples with 24/7 access to biblical help and hope.
And ultimately, bringing more people into a growing relationship with Jesus Christ through increased evangelism and discipleship in local communities. We know that this decision of faith is foundational to any marriage or family issue and has changed the lives of more than 100,000 people already who have accepted Christ as their Savior since this ministry was founded.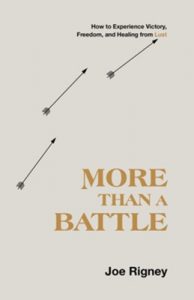 Will you make a difference for families seeking God's unchanging truths by making a generous gift today?
With your gift of any amount this month, we would love to send you a copy of More than a Battle by pastor and author Joe Rigney. This book offers hope for Christian men who are seeking to live with integrity and faithfulness in the face of the sexual temptation around them. Drawing on the Scriptures, his personal experience, and his pastoral counseling, Rigney frames the struggle with lust beneath the banner of Galatians 5:16: ""Walk by the Spirit and you will not gratify the desires of the flesh." Rigney shows us that through the gospel it is the Holy Spirit that gives us victory, sets us free, and heals our wounds.
Use the secure form below to get started.