You can help build twice as many godly marriages and families!
The number of families searching for practical guidance and support has skyrocketed this year. That's no secret.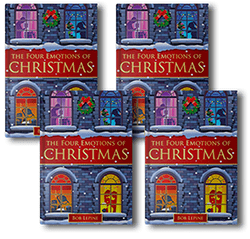 But there's hope for families. FamilyLife has the biblical tools to build strong families and restore broken relationships that people desperately need.
FamilyLife can't get this help to families without you.
Can you make a special year-end gift right now? Your gift will:
Create an all-new Art of Marriage small-group resource to equip couples to experience healthy, vibrant relationships.
Ensure that every family can access practical, easy-to-use, free resources to transform their neighborhoods and communities.
Create life-changing video content for YouTube, —where people are increasingly searching for help.
And right now your gift will go farther than ever. Give before December 31, so your donation will be matched, doubling your impact for hurting families.
To thank you for your generous gift, we'll send you four copies of Bob Lepine's book, The Four Emotions of Christmas, and a set of greeting cards hand-picked by David and Meg Robbins.
Please make your gift using the secure form below to build godly marriages and families before the match expires.