You Can Help Restore Broken Families and Relationships
More than ever, families are becoming disconnected and growing apart rather than together. These families are losing their anchors and drifting away from their faith and the relationships that matter most.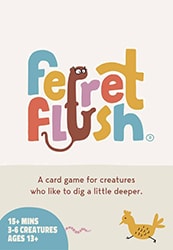 It's critical they find the hope of the gospel through practical, biblical tools and resources to build vibrant, healthy relationships with each other and with Christ—the same FamilyLife resources that have blessed your family.
Unfortunately, less than 3% of the families we serve give to keep this gospel-focused, family-building content available on air and online.
As we approach the end of our fiscal year on August 31, fewer partners have stepped forward to strengthen families like yours with our Weekend to Remember® events, cutting-edge digital resources, and pro-family content on emerging platforms to bring the gospel to every home.
Would you be willing to support this mission monthly with a fiscal year-end gift today? Your recurring gift will keep us here for you and your family 24/7.
To thank you for your support, we'll give you a free copy of Ferret Flush, an engaging and easy-to-play card game exploring the interplay between thoughts, feelings and actions. Plus, you'll gain access to our bestselling parenting course, FamilyLife's Art of Parenting®️.
Use the secure form below to make your monthly gift and help restore broken families and communities today.