You Can Help Restore Broken Families and Relationships
Every day, we hear from families in crisis: strained parent/child relationships, a terminal diagnosis, families struggling through betrayal, addiction, and financial hardships.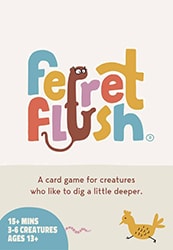 Add in all the other circumstances of life and it's no wonder more and more families are drifting apart from each other rather than growing together.
It's critical that these families find the hope of the gospel through practical, biblical tools and resources to build vibrant, healthy relationships with one another and with their neighbors.
That's where you come in. By making a sacrificial gift today to FamilyLife, you can reach these families with biblical resources proven to strengthen relationships and communities.
For over 45 years, FamilyLife has equipped millions of people to experience the abundant life Christ promises. We know what these families need, and you can ensure they get this critical support now.
Your generous support today will help launch new initiatives, update critical resources, and create new pathways of bringing the gospel to every home.
You will also get a free copy of Ferret Flush, an easy to play card game where players explore the interplay between thoughts, feelings and actions, and access to our bestselling parenting course, FamilyLife's Art of Parenting®️.
Use the secure form below to make your gift and help restore broken families and communities today.