Help Pastor Couples Strengthen Their Marriages and Restore Their Souls
People everywhere are feeling burned out and defeated, especially pastors. And their marriages and families are suffering too.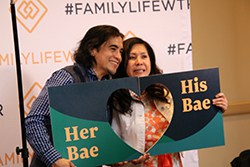 Your gift today will help fund pastors across the country to attend the Weekend to Remember®️ marriage getaways.
Our Weekend to Remember getaways have been restoring and fortifying marriages for over 40 years. As churches and communities feel the strain of the world around them, we want to bring in as many pastor couples as possible to help those who lead us. Your gift today will help provide scholarships to offset the $350 registration that is out of reach for many pastors and their spouses.
Please give today to lift up pastor couples in their time of need … and help protect their marriages and families!