Raising Kids with Hearts for Christ
To get the legacy that you've been praying for, start here.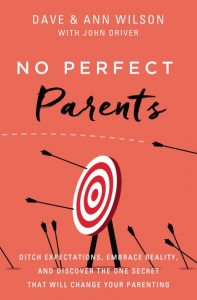 Raising kids with hearts for Christ may be the hardest thing you ever try to do, but it's also the most important thing. In No Perfect Parents, Dave and Ann Wilson share funny and honest stories, compelling illustrations, biblical insight, and practical steps you can put into practice in your home today.
This hands-on parenting manual covers strategies for raising kids that can impact their generation and generations to come in a powerful way.
And that's our ultimate goal at FamilyLife. As a ministry, we seek to develop Godly homes that will have a generational impact. But we can't do this alone. Would you join us in our mission?
You could provide the help needed to restore a broken marriage or strengthen a family.
When you make a gift today, not only will you receive a copy of No Perfect Parents but your gift will be used to reach families in critical need. Your generous gift will go directly towards helping to launch these new outreaches to meet people right where they are…
Launching an Updated FamilyLife App — Enabling "shareable" audio and video content. Imagine the increased impact when powerful content can be shared with a "click"!
Self Guided Couples Experiences — With limits on capacity for live events, we're developing virtual couples experiences to help couples move from isolation to oneness in their marriage and share what they are learning with others. These life changing, transformational experiences will focus on God's design for marriage, healthy communication and conflict, and intimacy.
Content for Digital Small Groups — Unique resources are being created in a special format to encourage digital small groups and provide married couples with 24/7 access to biblical help and hope.
Will you make a difference for families seeking God's unchanging truths by making a generous gift today?
Use the secure form below to get started.