You Can Be a Source of Hope!
Does your marriage feel stuck in a rut? Do you feel like you and your spouse are never on the same team? Do you want a flourishing and vibrant marriage, but wonder how in the world to get there?
Bestselling authors Jamie Ivey and Aaron Ivey have asked these tough questions too, and by God's grace and a lot of elbow grease, they've come out on the other side with a strong and healthy marriage. In Complement, you'll learn how you can too, as they walk you through the keys to building a satisfying and lasting marriage.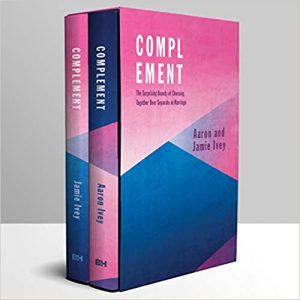 And that's our ultimate goal at FamilyLife. As a ministry, we seek to bring healing and wholeness to marriages and families through biblically sound and practical resources. But we can't do this alone. Would you join us in our mission?
When you make a gift today, you will receive a free copy of the Complement book set and your gift will be matched dollar for dollar through an incredible $350,000 match campaign through the month of May. Your generous gift will go directly towards helping to launch new outreaches to meet people right where they are including an updated FamilyLife App, content for Digital Small Groups, and Virtual Couples Experiences to help couples move from isolation to oneness in their marriage.
However you choose to give – whether that's a one-time gift, or ensuring families have biblical support every single day through an ongoing gift, you will receive a set of books called Complement by Aaron and Jamie Ivey, as well as the 28 Lessons from 28 Years flash drive filled with over 100 FamilyLife Today podcasts. This Matching Gift opportunity ends May 31, so don't delay.
Will you make a difference for families seeking God's unchanging truths by making a generous gift today?
Use the secure form below to get started.